You can reach the Electronic Invoicing module configuration menu clicking on the Configure button in the module list or using the Customers link within the side menu.
If a field is listed as Not supported it means that it's not available on that particular Prestashop version. It's perfectly fine and it's not a error.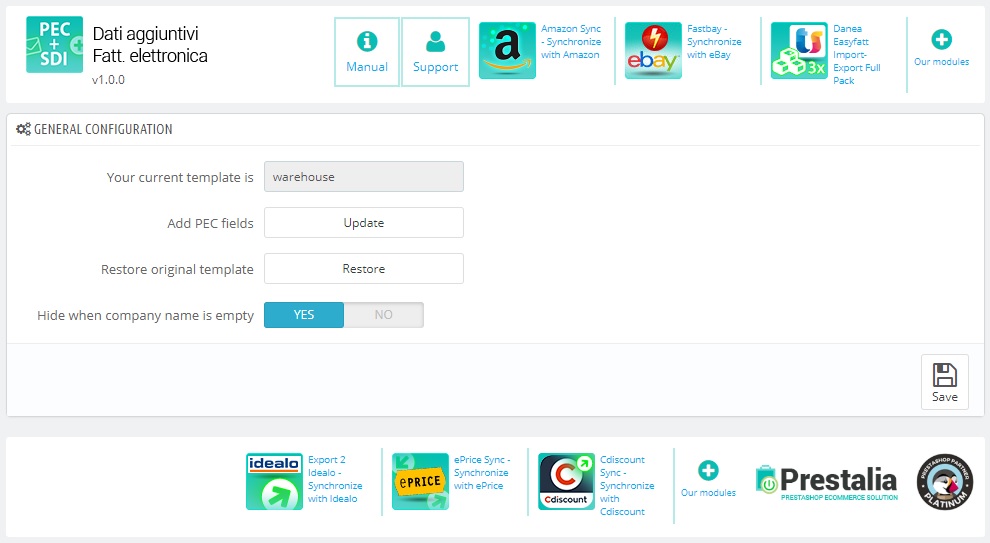 The configuration panel shows the template currently in use. In order to add the dedicated fields to the front office address area you need to update the respective file.
Clicking on the Update button, the module will perform this operation automatically. A backup of the original file will be performed too, so to have it in case a you need to revert the custom modification. Should the module report an error message it means that it wasn't possible to automatically add the required code for the additional fields to appear. Follow the guide available at this link to perform a manual update.
The Restore button will instead fetch the original file and restore it, so to remove the custom modifications applied by the module.
By default the new fields will always be visible. If you want to show them only when a custom fills in the company's name, instead, you will have to enable the Hide if company name is empty option, setting it to Yes. Remember to save the setting clicking on the Save button.
The new fields will be added within the customer's address page and they will be optional.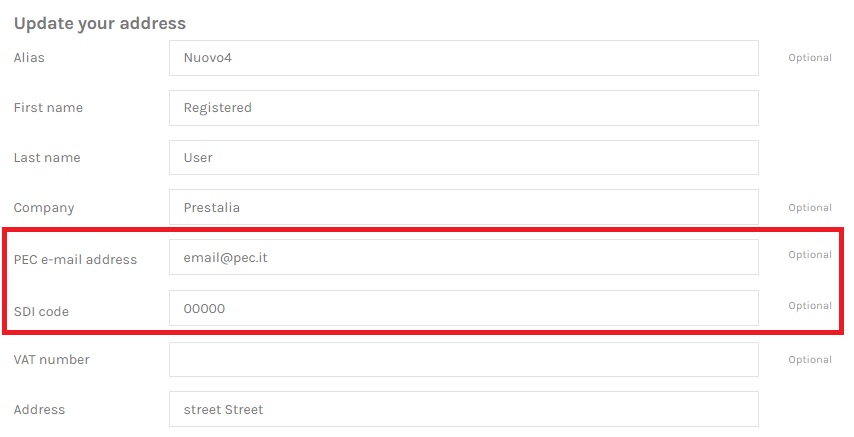 On the backoffice side, instead, the module installation will automatically add the PEC e-mail address and SDI code within the customer's address page that can be reached from the Customers – Addresses side menu. Should you need to update one or more fields in that page (including the PEC ones) it will be enough to click on one of the Save buttons available in that page. You won't have to update each field independently.