UNDERSTANDING EBAY ERRORS AND DEBUG MODE
IMPORTANT: Starting from module versione 6.5.4 all functions related to "Debug mode" had been moved in a dedicated tab , named "Debug".
Syncing your catalog may lead to eBay errors that can prevent an ad from being published.
Fastbay offers you several ways to understand and see eBay error messages in full,
our documentation will all the errors and instructions to resolve them quickly.
In this video, we illustrate the three main ways to easily catch eBay errors during synchronization:
Among the various ways of identifying errors, debug mode is certainly the most powerful as it allows you
to see eBay's complete "response" after submitting a product with the module.
This mode can be activated in the "Sync" tab of the module, using the "Enable debug mode" selector
placed inside the box with the same name:

Once activated, two download buttons will appear that will allow you to see the "request" ( the file sent by the module
to eBay) and the "response" (the file sent by eBay as a response after receiving the request data) respectively .
To see the error go to a product sheet of one of the products to be synchronized
and click "SAVE" on the product itself (this will "trigger" automatic synchronization to eBay,
as long as  you haven't deactivated "sync on save" option through the dedicated option in sync tab).
Then go back to the sync tab (refresh the page if necessary) and click on "Download" next to "Last XML response",
to consult the XML file returned from eBay, which will look similar to this: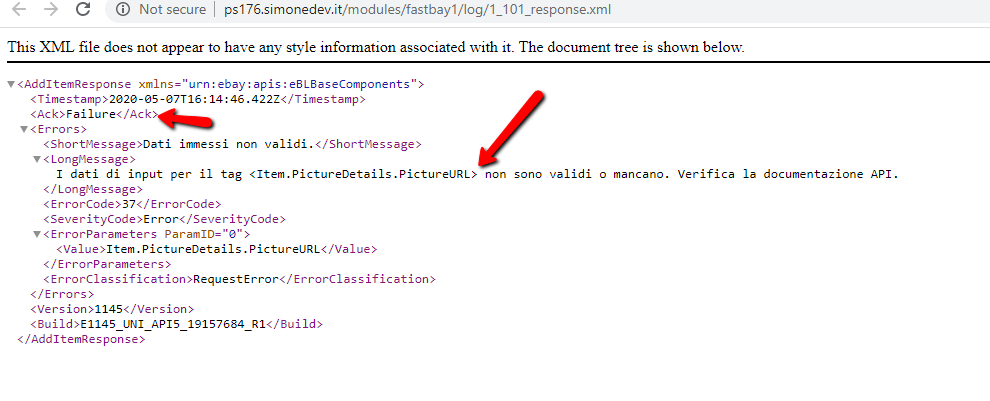 In case of error, find the message on the screen, if the reason for the error is not clear, you can check it in the documentation
to understand how to intervene and solve it.