As a first setup you will need to choose the eBay marketplace by clicking on the Add marketplace button in the top bar.
Once you have chosen the country marketplace click on Save marketplace and wait for the page to reload. In case you need to add another marketplace you will just need to repeat the operation you just performed.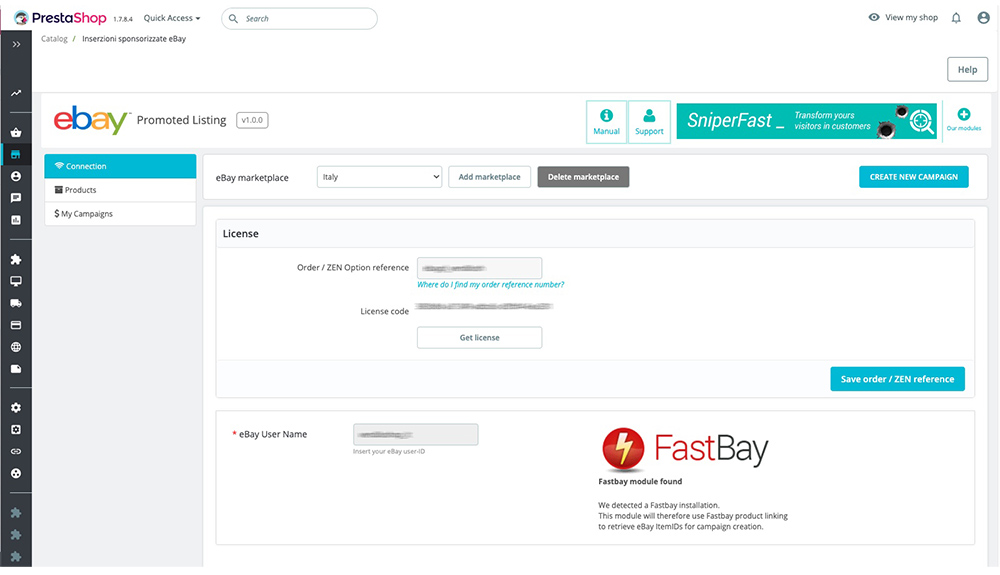 License
After activating a marketplace, you will need to enter your module order information to activate the license required for the module to unlock.
Once you have entered your order number (or "Zen option/Business care" order number in case of an upgrade) , click "Save order reference/ZEN" and then "Obtain License" to activate the module and unlock the use/configuration interface.
IMPORTANT Remember that modules can be installed on only one domain for which a regular license has to be purchased. In case youneed of installation in test websites it is necessary to open a ticket at support.prestalia.it to avoid the license being blocked.
Connecting your eBay account
Case A. Fastbay module is not installed
If you do not use Fastbay, in order to use the "Promoted Listings" module, you must link your eBay account by requesting a communication token between the module and eBay. This can be done by entering your eBay username and clicking the button in red named "Request token."
This will open a dedicated browser window in which you will be prompted to log in to eBay (this must be done using the same eBay username entered in the module) and then authorize the use of the eBay module necessary to manage promoted listings.
At the end of the procedure you will be prompted to close the browser window and upon returning in the module, the token button will be green to confirm that the operation was successful.
You will then be able to proceed to the "Products" tab for linking the listings.
Caso B. Fastbay module is installed / detected.
If you use Fastbay, the module will automatically detect your eBay account for the configured marketplace, showing it in the "eBay Username" box of the module. In this case, no action on your part is required; products linked in Fastbay will be recognized immediately for use in the "Promoted Listings" module.
You can then proceed to the "Products" tab for listings linking.