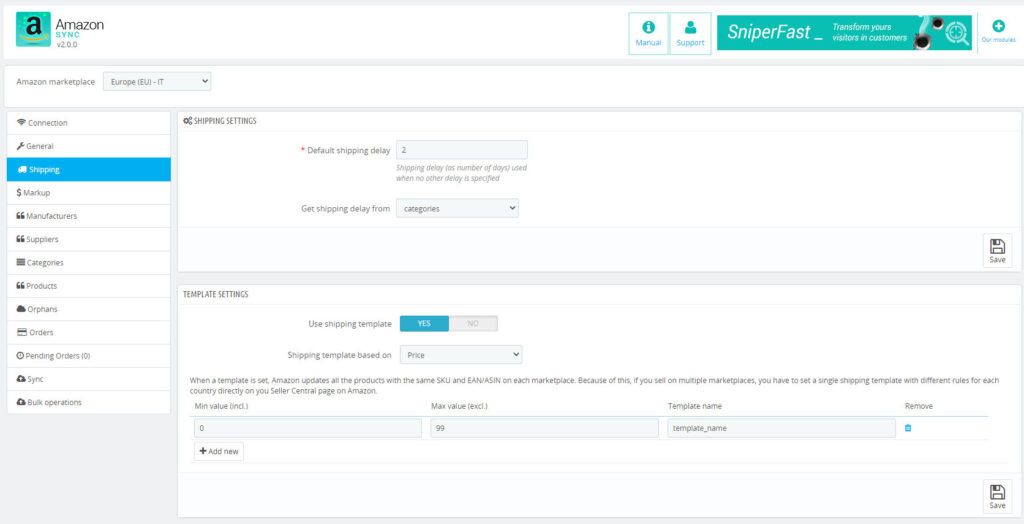 In this tab it will be possible to decide how to handle shipping times configurations for those products that will be synchronized with your own account on the Marketplace.
The Marketplace already has a predefined shipping time system for your account.
Default shipping delay: default shipping time (number of day required to prepare the product for shipment) used when not specified for categories, manufacturers or suppliers;
Get shipping delay from: choose the configuration type in regards to the shipping times that will be applied during the synchronization process.

At the end of the operation, click on "Save" to update the data.
TEMPLATE SETTINGS
If you use the shipping templates on Amazon, it is possible to configure them enabling the Use shipping template option. A dedicated menu will appear where you will be able to select whether the template should be applied to products based on Price or Weight. Set the respective value in the Shipping template based on menu.
The table will have to be completed filling in the shipping template name exactly as written on your Seller Central page on Amazon.
WARNING: once a template is set, Amazon will update all the products with the same SKU and EAN/ASIN on each marketplace. Because of this, if you sell on more marketplaces, set only one template with different rules for each country directly on the Amazon's Seller Central.