This panel allows you to map carriers from your website to the respective eBay shipping services. The panel is subdivided into three tabs. It is MANDATORY to select shipping times, which will be associated to the products published on eBay, if not previously set in the supplier / manufacturer tabs (see the dedicated configuration area).
settings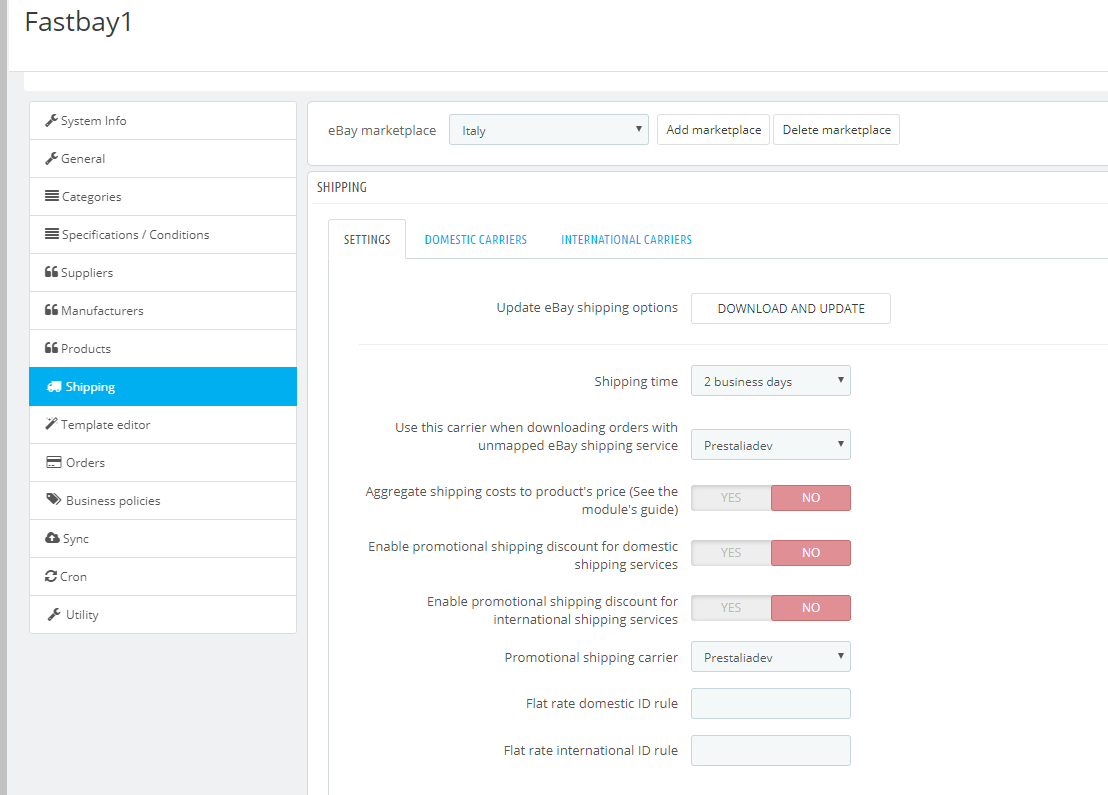 domestic carriersThe first operation to perform is to download the most recent shipping services from eBay clicking on the DOWNLOAD AND UPDATE button. The module will start a procedure to download the required data.
It is possible to configure some of the general settings in regards to shippings.
Shipping time: the option offers different business days to choose from and it will be used for all the offers sent to eBay unless a different configuration is found (for manufacturer or supplier) and if not overwritten in the dedicated Fastbay tab within the product sheet.
Use this carrier when downloading order with unmapped shipping service: Fastbay will use with Prestashop carrier if, when retrieving an eBay order, no suitable mapped carrier is found (please refer to "Shipping" tab documentation in order to better understand how to map carriers between Prestashop <=> eBay).
Aggregate shipping costs to product's price: this option allows you to sum shipping cost to product's price and to set the cheapest domestic shipping service as free. This functionality allows you to benefit from the additional visibility granted by eBay to products on salve with free shipping.
Enable promotional shipping discount for domestic / international shipping services: enabling this options, should you have some discount rules for promotional shippings enabled on eBay, you won't lose those settings on each synchronized product.
Promotional shipping carrier: this option allows you to set the Prestashop carrier that has to be used when on eBay there is an order compatible with a promotional shipping service.

It is mandatory to configure at least one domestic carrier. The eBay shipping cost will be calculated based on the carrier and to its price/weight range as configured on the website for that carrier.
The system allows to add a cost for every additional object. The shipping insurance is optional
international carriers

It's not possible to set two shipping options with the same carrier or the same country in case of international shipping.
Please refer to the following image to better understand how to configure each shipping parameter.
It is possible to set up to 3 eBay domestic services and 5 international ones.